Is milk in tetra packs safe for young children and adults?

Is the milk nutritious? Is milk hygienic? Is it safe for young children? Does the milk need to be boiled? Does the milk remain fresh? Is it unadulterated? If you these questions are flipping through your mind about milk in tetra packs you'll find the answers right here.


Take a walk down the aisle of any supermarket where the dairy products are stocked and the neatly lined tetra packs containing milk are sure to catch your eye. Milk in tetra packs isn't that old in India, and most people I know are averse to the idea of using this milk. They have this unfounded belief that the milk is somehow unsafe. There are a lot of myths going around about milk that comes in tetra packs. And, it's time to dispel these fallacies and bring forth the facts.




Myth # 1 Milk in tetra pack doesn't spoil because it has preservatives
It is the packaging process that extends the shelf life of the milk. There are no preservatives added to it, to keep it from spoiling.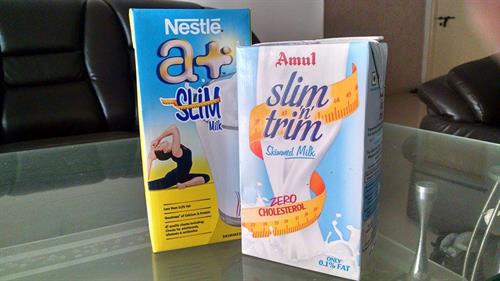 Milk packed in these packs is exposed to extremely high temperatures of 138° for approximately 2-3 seconds or 75°Celsius for approximately 15-20 seconds. This process helps in eliminating harmful micro-organisms and bacterial spores; making the milk absolutely safe to consume. This process is followed by packaging of the milk in a sterile environment; which ensures the milk remains safe for consumption for a longer period, without the inclusion of preservatives.


Myth # 2 Milk in tetra packs lacks nutrition
There is, in fact, more loss of nutrients when we boil milk at home. Most Indian homes bring milk to a boil and continue boiling it for another 8 – 10 minutes. We think doing so destroys all the harmful bacteria and viruses in the milk. The fact is boiling milk for extended periods leads to loss of B group vitamins particularly B1, B2 & B12. Over boiling also reduces the protein content in milk.

On the other hand, when milk is heated to a high temperature for just a few seconds (as explained above) it prevents loss of nutrients while killing the dangerous microbes present in it. The aseptically packaging of milk in tetra packs ensures it retains its nutritive value, better than milk packaged in any other form.


Myth # 3 Milk in tetra pack requires to be boiled
Milk in tetra pack containers does not require boiling. It can be had straight from the container. Boiling the milk will in fact deplete the water-soluble vitamins it contains. It is also a time-consuming action that eats into our resources, as well. You can of course heat the milk for your tea/coffee etc; but there is no need to boil it to death.

Packaging of milk in tetra packs involves a set of aseptic procedures, namely –
Ultra High-temperature Heating treatment (UHT) of milk
Use of Pre-sterilized tetra cartons for storing milk
Treatment and packing of milk in a sterile environment

These stringent procedures provide a conducive atmosphere for milk to stay contamination free, and safe for consumption without the need to boil, first. The milk can be had right from the pack, or heated if desired.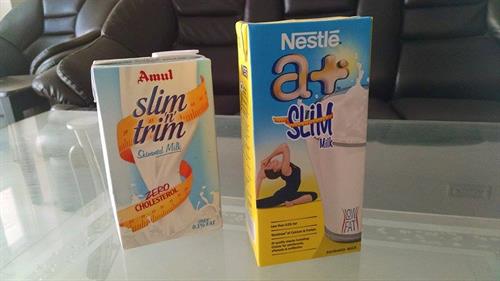 Myth # 4 Milk in tetra pack is not recommended for children
There is nothing wrong with milk in tetra packs. As a matter of fact the milk available in this kind of packaging is probably the most sterile milk available in the market. It is definitely more hygienic than what the local 'dudhwala' delivers at your doorstep,after milking the cows and buffaloes.

Remember, the milk is packaged under sterilized condition after being made microbe free. It couldn't get better than that. Milk in these packs is absolutely safe and as it also retains most of its nutritive value, it is good for your kids and adults in the family.

Milk in tetra packs is good on many counts -
Convenient to use and store
Portable
Extended shelf life
No added preservatives
No adulteration
Healthier option to regular milk
Can be used without boiling
Saves time, effort and money
Myth # 5 Inferior materials used in the pack is a health hazard
That is a misconception; for the materials are way within the parameters of safety standards. A tetra pack, especially that carrying consumable products is made from food grade materials. These containers consist of multiple layers of packing material – the outer casing is made of cardboard, which is lined with aluminium foil on the inside. Layers of food grade polythene sheets cover the foil. It is an ideal packing case for keeping milk from curdling.


Personal Experience
On a personal note; I am a regular user of tetra pack milk. The most popular brands that find their way into my kitchen storeroom are Nestle and Amul. There are a lot of different varieties available within these brands. But, I choose the ones that are low in fat.
I use the Slim Milk variant marketed by Nestle. Despite having a low fat content the milk is not watery. It tastes just fine; whether it's added to coffee, tea or had plain. I tried making ice-cream with it, with good results.

Amul is another of my favourite brand; especially the Slim 'n' Trim pack with zero cholesterol. I feel safe drinking this milk; because there is no risk of adding cholesterol to my diet. It tastes delicious, better than all the other regular milk. Other than using it for tea, coffee and desserts I use it for setting curd. The curd sets nice and thick.


Final Note
It is common knowledge that milk we get can sometimes be adulterated with skim milk powder, glucose and even detergent. The harmful effects of consuming such milk cannot be stressed enough.



If the tetra pack is unopened it has a longer shelf life; sometimes going into months. Once opened it stays good for 3-5 days, provided it is refrigerated. You can store the milk in the container itself. These packs do not occupy much space in the fridge; they fit in snugly in the shelves on the door. Some come with flip lids, others with screwed on caps, while some need to be snipped to open for convenience.

With tetra packs the calcium, protein and B vitamins in the milk are retained. Since no boiling of milk is required the loss of these nutrients is minimal. So, the next time you walk past tetra packs sitting on the display racks in the store do yourself a favour and pick one up. You'll not regret the decision.

Note: Images in the above article belong to me.